IEEE CVPR 2011 Conference Colorado Springs
IEEE Computer Vision and Pattern Recognition (CVPR) 2011
Main Conference: Tue/Wed/Thu June 21-23, 2011
Workshop/Tutorials: Mon/Fri/Sat June 20,24,25 2011
CVPR is the premiere annual Computer Vision event comprising the main CVPR conference and 27 co-located workshops and short courses. With its high quality and low cost, it provides an exceptional value for students, academics and industry. Attendance for the 2011 event was limited to 1500 people for the main conference plus 50 workshop only attendees and approximately 50 exhibitors and volunteers.
Video Presentations - The video presentations are available free for all CVPR attendees. Instructions --
1)  Go to the homepage 
2) select log in
3) create account
4) go back to talk page and select talk
5) then it will ask you for the last name(case sensitive) and registration id (from CVPR registration)



PAPER AWARDS
Longuet-Higgins Prize - Rapid Object Detection using a Boosted Cascade of Simple Features. Paul A. Viola, Michael J. Jones
Sponsored by Microsoft

Best Paper - Real-time Human Pose Recognition in Parts from Single Depth Images, Jamie Shotton, Andrew FItzgibbon, Mat Cook, Toby Sharp, Mark Finocchio, Richard Moore, Alex Kipman, Andrew Blake
Sponsored by Google

Best Paper Honorable Mention - Discrete-Continuous Optimization for Large-scale Structure from Motion, David Crandall, Andrew Owens, Noah Snavely, Daniel Huttenlocher
Sponsored by Google


Best Student Paper - Recognition Using Visual Phrases, Ali Farhadi, Mohammad Amin Sadeghi
Sponsored by United Technologies Research Center
Best Student Paper Honorable Mention- Separating Reflective and Fluorescent Components of An Image, Cherry Zhang, Imari Sato Sponsored by Springer
Best Reviewers

Sponsored by Honeywell

Amit Agrawal

Kyros Kutulakos

Luca Ballan

Christoph Lampert

Jaoa Barreto

Bastian Leibe

Paul Beardsley

Stephen Lin

Matthew Blaschko

David Lowe

Gabriel Brostow

Philippos Mordohai

Timothee Cour

Bjorn Ommer

Larry Davis

Jerry Prince

Andrew Davison

Marc'Aurelio Ranzato

Frank Dellaert

Thomas Schoenemann

Singaraju Dheeraj

Jose Serrano-Rodriguez

Francesco Estrada

Yaser

Sheikh

Vittorio Ferrari

Kevin Smith

Andrew Fitzgibbon

Michael Stark

Andrew Gallagher

Christian Theobalt

Leo Grady

Raquel Urtasun

Kirsten Grauman

Andrea Vedaldi

Peter Gehler

Jakob Verbeek

Christopher

Geyer

Ollie Williams

Ross Girshick

John Wright

Lena Gorelick

Jing Xiao

C. V. Jawahar

Tom Yeh

Allan Jepson

Xenophon Zabulis

Micah Johnson

Karel Zimmerman

Fredrik Kahl

Larry Zitnick

Pawan Kumar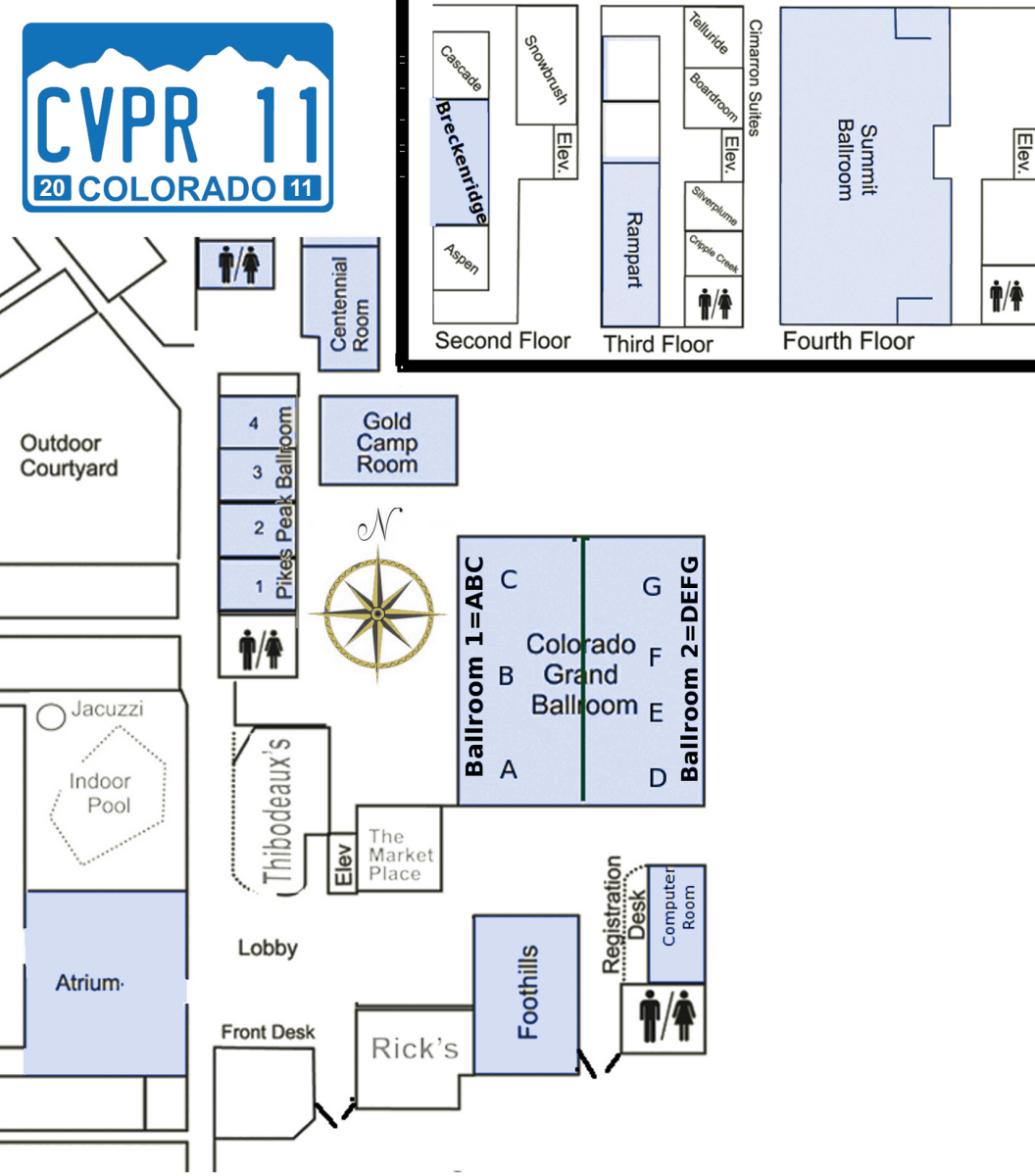 Early Registration ends : May 20, 2011
Workshop/Short Course Proposals: Oct 20,
2010
Main Conference Paper Submission: Thursday Nov. 11, 2010 5pm MST (GMT-7). This is a firm deadline.
Supplemental Material Deadline: Thursday, Nov. 18, 2010 5pm MST (extended to 11:59pm)
Reviews Due: Jan.

16 2011 11:59:00 PM PST
AC's initial analysis of reviews and beating on late reviewers (Jan 16-21)
Reviews released to authors for rebuttal: Jan 21
Reviews are open for author access.
Rebuttals Due: Jan 28 2011: 4:59:00 pm PST
AC Meeting: Feb 12/13
Decisions Announced: Feb. 18, 2011, done by Feb 13, 5PM MST!
Camera Ready Papers Due: April 4, 2011
Doctoral Consortium deadline: May 2, 2011
Workshop paper authors registered and page fees paid, May 1, 11:59pm MDT
Demo application deadline: May 6, 2011

extended to May 11
Exhibit application deadline: May 13, 2011
The main CVPR conference is a selective peer reviewed conference. Papers in the main CVPR program must describe high-quality, original research. Dual submission to CVPR and any other venue (workshop, conference or journal) is prohibited. Papers will be published in IEEE Xplore.
IEEE CVPR 2011 is co-sponsored by IEEE Computer Society and U. Colorado at Colorado Springs.